Green Devil Face
The Green Devil Face is a classic fantasy RPG trap. It's obvious and out in the open, so no rolls need to be made to find it. It's obviously odd, so players will spend time thinking (and arguing!) about what to do about it. And when some poor sucker sticks his head inside, it's no one's fault but his own, his fate decided entirely by his own decision, without being able to blame bad luck or a crappy roll.
I've pasted a copy of the original Green Devil Face illustration to the front of my referee binder (which contains the inspirational and rules material I use when preparing adventures) to always remind myself that the best traps are left out in the open, daring the characters to come play with them.
Green Devil Face, the zine, is a community project. It is intended to provide traditional fantasy RPG referees with game material that can be inserted as-is into their games. Detail is encouraged to give the reader the exact sense of how the author would play the trap out in-game, and of course the referee reading it is free to use that or substitute his own ideas as appropriate.
If you have a particularly original or clever trap, room, item, or tricky situation that you've used in one of your games and that you would like to share, submit it for publication in a future issue of Green Devil Face. We can't pay anything, but you keep the rights to your work, and you get to see your name in print. All contributors get a copy of the final finished printed product.
A new issues will be released whenever 20-24 pages of content are filled, so submit now, and submit often!
Submissions and inquiries should be sent to lotfp@lotfp.com.
Green Devil Face #1
Green Devil Face #1 is a funhouse dungeon adventure by James Edward Raggi IV featuring over 50 detailed areas to be used as-is, or custom-fitted for your traditional fantasy game.
The dungeon itself is a collection of deadly traps, wild encounters, and unlikely situations, roughly themed to be poking fun at the traditional gaming scene. In this adventure, players can:
See a microscopic basilisk
Help a stoneworker understand carpentry
Explore the Hall of Many Pains
Meet Arne and learn about his son
Travel through time to the Vietnam War
Discover secrets of the Mad Mage!
... and much more...
Green Devil Face #2
Green Devil Face goes Community! A variety of traps, challenges, and tests of bravery from a number of authors come together between two perilous covers! Included in this issue:
The Eyes of Parsifur and Dunsane by Kent
Doppelganger Trap Room by Akseli Envall
Mummy Tar Trap Room of Death by Akseli Envall
Temple of Water by Akseli Envall
The Pylis Prison by J. Brian "Trollsmyth" Murphy
The Gem in the Skull by James Edward Raggi IV
The Hallway That Does Not Exist by James Edward Raggi IV
The Lever by James Edward Raggi IV
The Lumberjack is Not OK by James Edward Raggi IV
The Incredible Pedestal by Jeff Rients
Yet Another Stupid Giant Chessboard by Jeff Rients
Little Mammon by Wayne S. Rossi
Green Devil Face #3
A variety of traps, challenges, and tests of bravery from a number of authors come together between two perilous covers! Included in this issue:
Pool of Fideceal: A Vexing Dungeon Furnishing by Alfred John Dalziel
The Heat of Greed by Andreas Davour
The Hypercube of Doom by Andreas Davour
Sparkling in the Night by Andreas Davour
The Zigzag Path of Doom by Akseli Envall
Beware the Red Stream by Caleb Jensen
Between a Rock and a Hard Place by James Edward Raggi IV
The Great Golden Ball by James Edward Raggi IV
This Is Seriously Unfair By James Edward Raggi IV
Affluentarium by Settembrini
Swallow of Summoning by Chris Weller
Green Devil Face #4
Contents of This Issue:
Knights of Science - A New Character Class by James Edward Raggi IV
The Tower - Mini-Adventure by James Edward Raggi IV (originally presented in Fight On #4 - contains more backstory than the version in Death Frost Doom!)
The Dread Sorceries of Duvan'Ku - New Spells by James Edward Raggi IV (originally presented in Fight On #4)
Fell Magick Items of Duvan'Ku - New Magic Items by James Edward Raggi IV (originally presented in Fight On #4)
Random Inn Generator - Create an Inn and its Visitors from scratch! By James Edward Raggi IV (originally presented in Fight On #2)
Wand of the Weird - A wand of Bizarre Effect by James Edward Raggi IV
House of Snails - A mini-dungeon by James Edward Raggi IV
The Frog Cult - A mini-dungeon by James Edward Raggi IV
The Tomb to Die For/In by R. Lawrence Blake
Random Treasure Generator - The Old Treasure Tables Presented in a New Way by James Edward Raggi IV
A Spell Point Theory - Another Look Adapting the Vancian Magic System to Spell Points by James Edward Raggi IV
Plus Classic Green Devil Face Tricks/Traps:
The Room of Four Pits by Ramsey Dow
The Sneaky Book Room by James Brian Murphy
The Child by Zak Sabbath
The Chamber and the Glass Box by Zak Sabbath
Shrieker Stew by Jonathan Becker
Pool of Testing by Jonathan Becker
Shaggy Dog by Jonathan Becker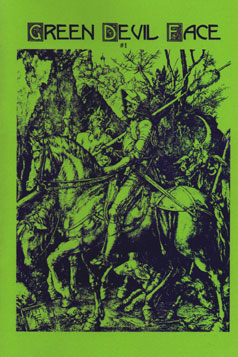 27 pages (A5), published 2009
23 pages (A5), published 2009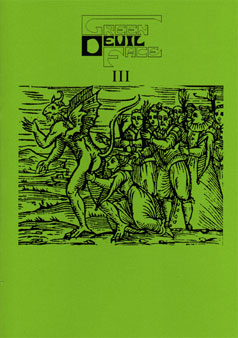 16 pages (A5), published 2009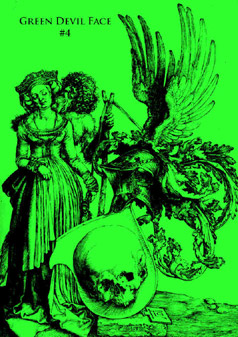 72 pages (A4 PDF), published 2010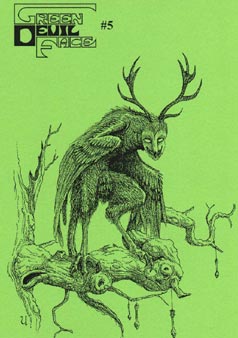 12 pages (A5 PDF), published 2012
Reviews