News
Read on for information about LotFP releases and news.
16.07.2010: LotFP Weird Fantasy Role-Playing and Hammers of the God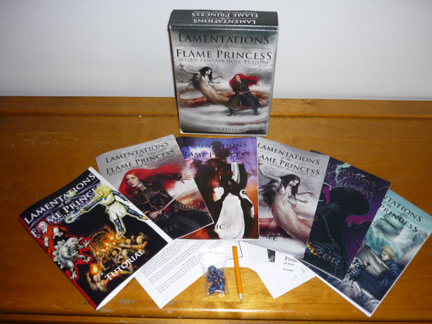 Orders are now being accepted for both of these items. Check out the store link above!
Do note that the Tower of the Stargazer and Weird New World adventures are included in the box. They are also available separately for those of you interested in LotFP modules but not the game.
09.07.2010: The Grinding Gear nominated for an ENnie!
LotFP's Grinding Gear module has been nominated for a Best Adventure ENnie.
Death Frost Doom got an Honorable Mention for Best Cartography.
See the full list of nominees here.
10.06.2010: In the Home Stretch
July 23 is the release date for LotFP: Weird Fantasy Role-Playing.
As soon as all the material is printed (expected to be early July), we'll open up a pre-order here on the site. We'll debut the game at Ropecon (July 23 - 25), and then begin to fill the accumulated orders after that date.
Weird Fantasy Role-Playing, Hammers of the God, Tower of the Stargazer, and Weird New World (those latter two included with the box and available separately) have been added to the product pages.
A little over a month away.
14.04.2010: All's Not Quiet on the Northern Front
Things have been quiet on the news end, but this summer will be a big release:
LotFP: Weird Fantasy Role-Playing
It will be a box set with 7 booklets, dice, character sheets, etc. Two of those booklets are adventures that will also be available separately.
Also released at the same time will be the third printing of Death Frost Doom and the new adventure Hammers of the God.
The plan is to debut all of this at Ropecon, held in Helsinki July 23-25.
You can keep up with news and doings on the blog and forum, and otherwise, see you guys in July!
02.02.2010: LotFP Releases Available in Print and PDF from Indie Press Revolution
Just like the title says. The LotFP section at IPR is here!
---
First page, Previous — Page 8 of 12 — Next, Last page
Free No-Art LotFP Rules & Magic PDF
The missing Red & Pleasant Land handouts
Free 58 page adventure The Doom-Cave of the Crystal-Headed Children
Free 180 page adventure Better Than Any Man in PDF!
Better Than Any Man Map Handout PDF (players keep out)
Want to keep up on LotFP news and reviews?
Want to write for LotFP? Details here!