Death Frost Doom
Up on a mountain sits a house by a cemetery, haunted by the memories of atrocities past. People remember that horrible things happened up on that mountain, but not exactly what those things were. Still, they stay well away, and live long and prosperous lives for their wisdom.
But rumors of abandoned treasure and magic always bring those wishing to recover it. Brave, skilled men need not fear that which terrifies the common folk.
The cult on the mountain is long gone, yet the music of weirdling death carries on the wind.
The mountain is cold. So very cold.
And the greedy and the foolish will march bravely up the mountain for gold and glory.
Who Will Survive, and What Will Be Left of Their Souls?
Death Frost Doom is an adventure for character levels 1 – 6, and includes a revised version of The Tower, originally published in Fight On! #4.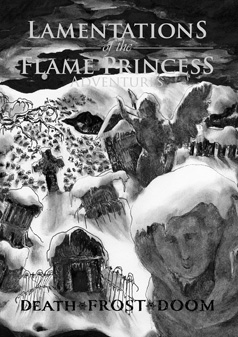 28 pages (A5), published 2009
Download a 6 page preview
Reviews