The Magnificent Joop van Ooms
Writing by James Edward Raggi IV, cover by Jason Rainville, interiors by Jez Gordon.
This mini-module describes artist/engineer/architect Joop van Ooms, his entourage, his home, his works. Includes rules for black market sales, encounter charts for a commercial port city, and plot hooks to get the PCs in the middle of the action.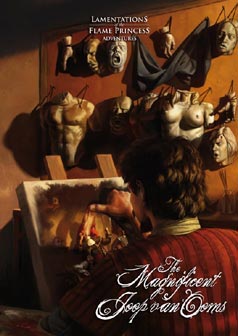 16 pages (A5), published 2012
Read reviews here.