No Dignity in Death: The Three Brides
In the distant past, a woman died in agony. A victim of secret forces. In a present so close you just missed it, a woman died suddenly. At the hands of one who now looks you in the eyes. Tomorrow, a woman will just begin to die slowly, as one so chosen died a decade ago. And a decade before that.
No Dignity in Death: The Three Brides tells the tale of a peculiar town of Pembrooktonshire, the home to many mysteries. Here happened a horrible crime whose perpetrator runs free. Here happens a strange festival and sporting competition with dire consequences for its participants. Here happened the tale of an explorer seeking his fortune, and taking several local youths with him into oblivion.
An overzealous holy warrior. A storybook highwayman. A couple outcast for their forbidden love across racial lines.
Civilization is more wicked than any dark wood or deep dungeon.
No Dignity in Death is an adventure module for low-level characters. There are three distinct adventures described within, each fully usable independently or as a linked series.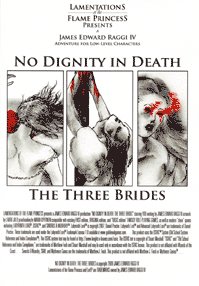 40 pages (A5), published 2009
Download a 5 page preview
Reviews